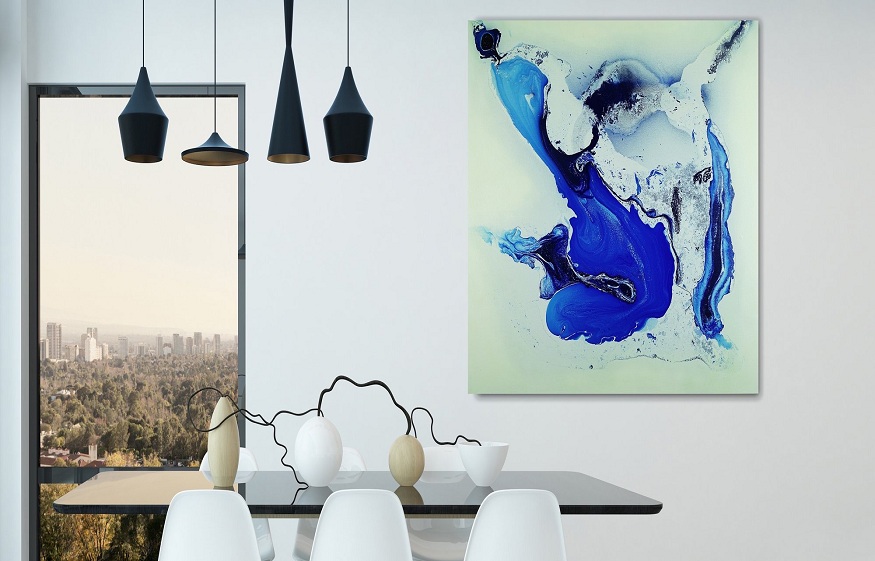 If you admire the bohemian interior look and thinking how precisely you can get this look for your home, this blog is a great guide for you. Here are some wall décor ideas that will bring a boho vibe to your walls!
Boho wall décor is on the minds of several people because of its bold colors and textures. This particular style of décor gives a relaxed feeling. With extensive flexibility to combine artistic elements, it's very convenient to get the wanted interior design and appeal while maintaining a boho feel. Certain artworks can do the bohemian makeover to the walls of your home without too much ideation.
Are you ready to get through the exquisite minimal artworks to add boho vibe to your walls?
Abstract Painting
Bohemian style enables you to put your creativity with a combination of multiple colors and outlines. This is why abstract minimal paintings are true boho décor pieces. The blend of random textures, shades, and patterns will provide your interior walls with an unconventional and decorative look. These boho-chic art pieces generally highlight a random thought of the artists, which is not easy to understand by all.
Whether you are looking for a minimal design painting or a bold one for the walls of your bedroom, living room, or kitchen, abstract style is just perfect. To make an ideal choice while purchasing this painting, here is a quick example for you. If your wall is light colored, go for an abstract painting in bold colors and big patterns. Similarly, choose an abstract minimal painting in sober shades for dark toned walls.
2. Floral Painting
Floral art is another fabulous décor piece that offers a bohemian appearance to your walls. The variety of floral paintings in the art galleries and online art stores will amaze you. From floral acrylic paintings to the oil paintings, you have too many choices. Generally, floral oil art pieces are chosen more for a boho-chic look. The boho look can get to another level if the painting is boxed in a traditional frame.
For a non-textured wall, go for an assortment of floral paintings otherwise you can for single floral artworks. Additionally, you can make an art corner in your home by adding multiple floral paintings in different sizes.
3. Landscape Painting
Landscape painting is no less than abstract and floral paintings. They are one of the oldest paintings that people have been using it for ages for wall décor. They are amazing artifacts to add a boho vibe to any home or office. They are available in unlimited designs and colors. From green scenery to mountain scenes and sunset views, there are too many designs to choose from. Similar to floral artwork, you can put nature paintings in the assortment or solo piece on your walls.
The desired boho interior style can be accomplished easily with landscape paintings. Additionally, they show your love and attraction towards nature and exquisite landscapes. Again, you can improve the boho look by making the artwork framed in a old-style frame.
Conclusion 
These are some of the best boho painting ideas for your home and office walls. Explore as much as you can and experiment to get the desired look. You can either get any particular style painting from the list or get all these styles to make an art corner in the home. Make sure your bohemian paintings reveal your personality.
Buying these boho-chic paintings is an easy task as they are available on online shopping sites and art galleries. They come in affordable as well as high-end budget so you can purchase ones under your budget.